The feeling was universal by the end of our two-month stay at HANSA: No one on my team wanted to leave the private team suite. Photography / Matt Digati
I've always been preoccupied by my workspace. Natural light, a semi-organized desk and a few key creature comforts (good pens, copious snacks) make me happy and productive.
So when our content team at Amplified Buffalo was tasked with a special project this fall, I knew a change of scenery might rev our creative engines.
Our group of 10 moved into one of HANSA's private team suites in early September, and the experiment began.
For us, it was a perfect storm of a fresh new project; a few new hires coming onboard; and our current team members transitioning back to the office. Some of us didn't know each other – and many of us hadn't spent more than a few days in the same space since the pandemic began.
The move was a much-needed convergence of ideas and personalities, all housed in the beautifully pre-furnished, open-concept offices that make up the HANSA workspace. All we had to do was bring our laptops, plug in and connect to the existing high-speed wifi – a convenience that allowed us to stay focused on our work, not setting up an office space.
There were immediate benefits. The suite included our own private conference room, two private offices, and multiple desks in the open area. We had the flexibility of hosting Zoom or in-person meetings behind closed doors, while the open area provided space to collaborate.  Calculate your workspace needs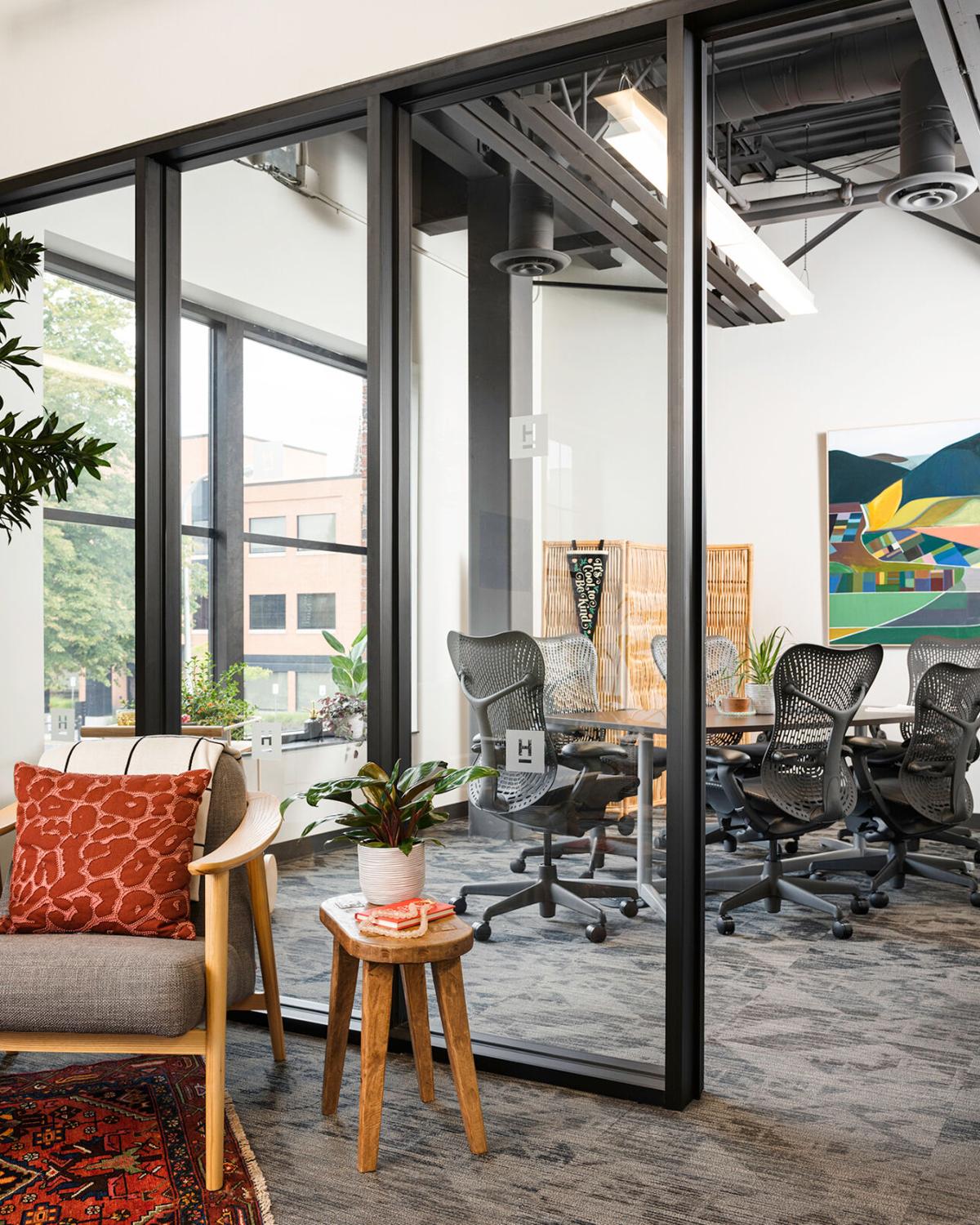 As part of the larger HANSA coworking space, we also had access to a ton of cool amenities the whole building enjoys, from a meditation room to a podcast studio.
One feature, the café and kitchen, functions as the building's town center – a place to network organically and meet the neighbors. On my first day while grabbing a free coffee, I met a graphic designer, a cannabis entrepreneur who had just moved to Buffalo, and ran into an old friend who'd established roots there as part of a startup. Another HANSA member (who happened to be a prominent community leader) very kindly showed me how to operate the dishwasher.
As for our team, we bonded and we produced, away from the hustle and bustle of our main office. We used breakout meeting rooms with whiteboard walls to brainstorm; and we ducked into phone booths to make calls that required focus and heavy notetaking. We hosted meetings with clients and vendors in the big conference room, and we met and networked with many of our fellow members. We even painted pumpkins during a lighthearted lunchtime event with our fellow members. The programs and networking not only provided a nice break, they also helped keep us energized.
By the end of our two-month stay, the feeling was universal: No one wanted to leave. Alas, we also wanted to reunite with our extended team at HQ – so back "home" we went – but HANSA had served its intended purpose. It was the ideal space to separate ourselves and successfully complete the project at hand.
For additional information and to Book A Tour of HANSA, contact: